The venue is close to [P06] Shimin Hiroba (Convention center) Station of the Port Liner monorail (Kobe New Transit). It takes 8 minutes to [P06] Shimin Hiroba from [P09] Kobe Airport (adult: JPY 250) and 10 minutes from [P01] Sannomiya, the main hub of Kobe (adult: JPY 250).
【Important Notice】
◇

From 3/15 (Friday) ~ 3/17 (Sunday), portliner and surrounding stores (convenience stores and restaurants) will be very crowded due to a large event held at Kobe World (memorial) Hall. The advance preparation, such as purchase of ticket, charge of IC card, purchase of lunch, etc. are strongly recommended.
(The end times of several workshops in 3/15 (Friday) ~ 3/17 (Sunday) are expected to overlap with those of the event. The participants must be careful in particular.)

◇

In Sannomiya, the ticket gate of portliner is away from that of JR, Kobe city subway, Hankyu Railway or Hanshin Electric Railway. If you are going to use portliner for the first time, we recommend you to check the interior map of Sannomiya station once.
ACCESS TO VENUE
Kobe International Conference Center / Kobe International Exhibition Hall, Hall No. 2 bldg.
Port liner monorail, Shimin hiroba (Convention Center) Station [P06]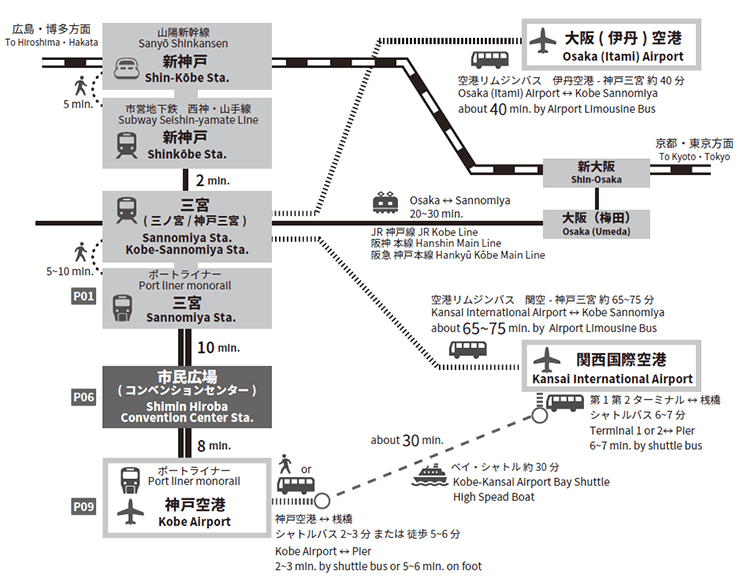 Usage information of Port liner monorail, Airport Limousine Bus, and Kobe-Kansai Airport Bay Shuttle are available in the websites.